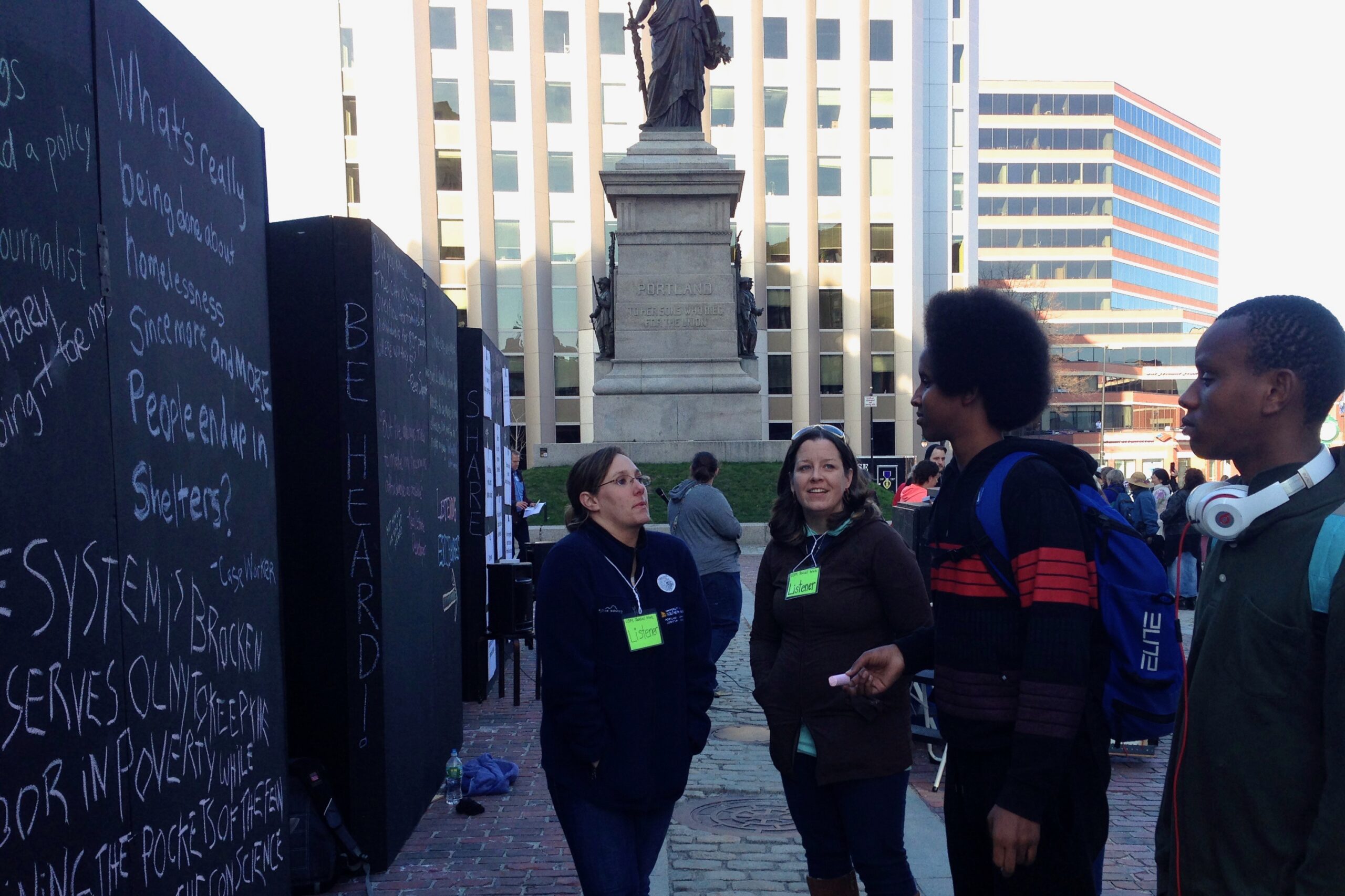 "As long as there are people…
are there going to be people without homes?"
An art and civic listening dialogue centered around 100 interviews, an interactive art installation, tiny house models, on-the-street listening exchanges & pop-up performances.
Hearts, Minds & Homes was an art and civic listening dialogue on gentrification, homelessness, and housing in Portland, operating with the premise of using stories to support community-engaged design and development for affordable, innovative housing. Project partners included USM Social Work students, USM Art students, University of Maine at Augusta (UMA) Architecture students, the City of Portland, Creative Portland, and Art At Work.
The project was anchored in 100 interviews, conducted by USM social work students, with Portland residents who are activists, realtors, bartenders, homeless, formerly homeless, business owners, refugees, ministers, social workers, landlords, city councilors, immigrants, lawyers, police officers, tax payers, tenants, city workers, young people, students, artists, poets and more.
The project also included an all-day city-wide community forum coordinated by Creative Portland, Art At Work, and USM that brought together 250 elected officials, grassroots leaders, business leaders, municipal leaders, faith leaders, and residents to discuss the issues central to the project.
At the First Friday Art Walk on May 1st, 2015, Hearts, Minds & Homes presented:
A large-scale chalkboard Listening Wall produced by USM art students under the guidance of Michael Shaughnessy, USM Professor of Sculpture, with significant statements and questions collected from the 100 listening exchanges. Community members at First Friday Art Walk were encouraged to add their own questions and statements to the wall.
Sharing of tiny home models and drawings produced by UMA architecture students under the guidance of Rosie Curtis, UMA Adjunct Professor of Architecture. This was a collaboration with Waterville's Mid Maine Homeless Shelter and emphasizes the importance of community.
Listening exchanges with passersby led by USM social work students under the guidance of Paula Gerstenblatt, USM Professor of Social Work.
Pop-up performances by city leaders and residents led by Marty Pottenger, bringing the transformative power of live performance to help inform and address an important social issue.
Hearts, Minds & Homes was a listening civic dialogue anchored in a catalytic and rare ingredient: listening. Portland's housing issues required a focused response from the community as a whole. To devise and implement truly sustainable solutions, open community dialogues were a necessity. As a diverse group of people with differing backgrounds and perspectives, the Portland community benefited from this non-judgmental forum to ask questions, express concerns, and share ideas.
Hearts, Minds & Homes was made possible with generous funding from the Nathan Cummings Foundation, the National Endowment for the Arts, and the City of Portland.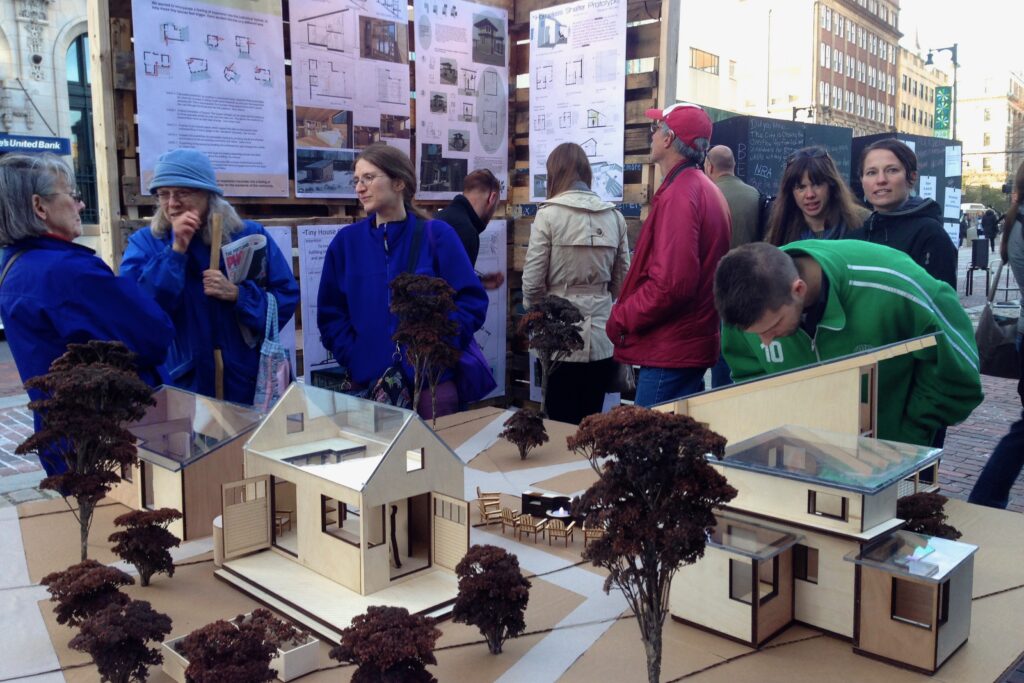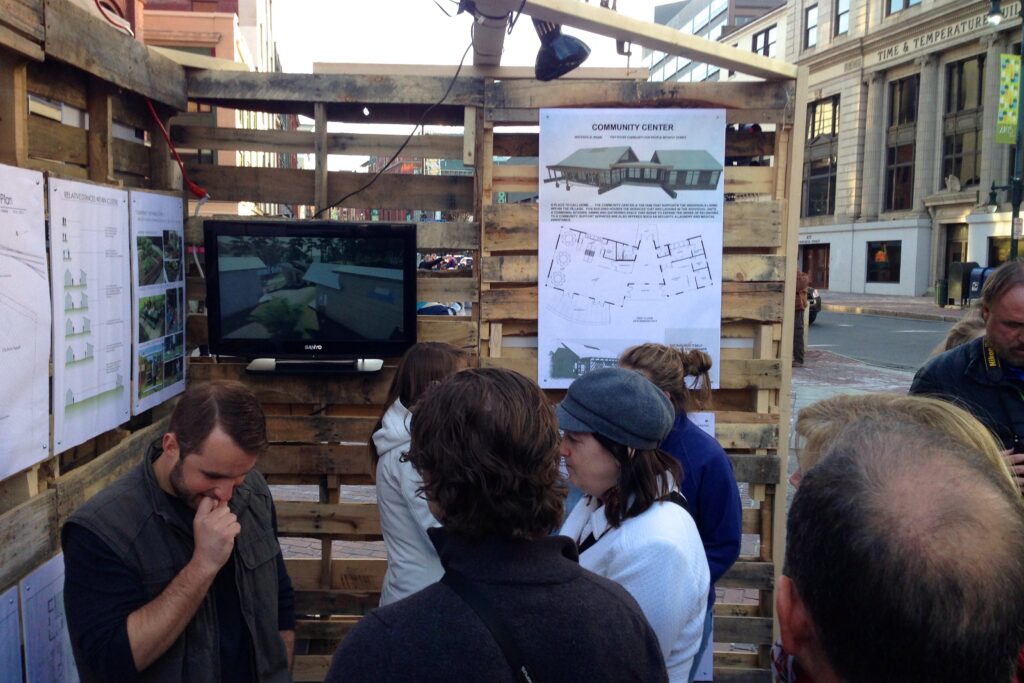 Sample Questions Asked to 100 Portlanders
What is the time in your life you felt most at home, centered, yourself – and why?
What is the time in your life that you either experienced a version of homelessness or felt the least secure regarding your living situation?
What is one way that you/your family/community has been personally affected by homelessness/gentrification?
What is a story about gentrification or homelessness that you'll never forget?
What is a question you have relating to the issue of homelessness that you don't ask out loud because it may be seen as either politically incorrect or ignorant?
If you had a magic wand, what is one way you would use it to address gentrification/homelessness?
What is one thing in your life that would be different if you knew for certain that from this moment on everyone everywhere would always have safe affordable housing?
Sample Responses from 100 Portlanders
"So in a city that feels like a very comfortable, fun, cultured little city,
we still have this big issue and you can't escape it or get around it."
– Neighborhood Association Member
"Home has become less of a structure to me and more of feeling,
a community, and a sense of belonging."
– Bartender
"When you are up to your ass in alligators it's hard to remember
you are supposed to be draining the swamp."
– City Councilor
"I don't mind working 18 hours on my feet because I know
at the end of the day I will have a warm meal to eat."
– Cambodian refugee
"I feel most at home when I meditate.
It has nothing to do with shelter."
– Real Estate Investor, formerly homeless
"We never came through when we closed Pineland
and reduced AMHI & Bangor Mental Health Institute."
– City Councilor
"I welcome others into my home who may not have
the support and backing from others like I've had the luxury of having.
That makes me feel centered and what makes my home feel like a home."
– Police Officer
"Why has Portland become such a prominent place
for homelessness and panhandling in the past 5 years?
Are the benefits that good and available that they have come to Maine?"
– Funeral Director
"The most challenging thing is feeling shame.
Feeling like you should be able to do it without asking for help?"
– Elementary School Principal
"Everyone wants to think they're beyond it, but the truth is,
everyone is about 30 seconds away from being on the street."
– Radio Employee, formerly homeless
"Homeless?! Why are you REALLY out here?"
– Rehab Facility Nurse, Clinic Dentist, Interviewer