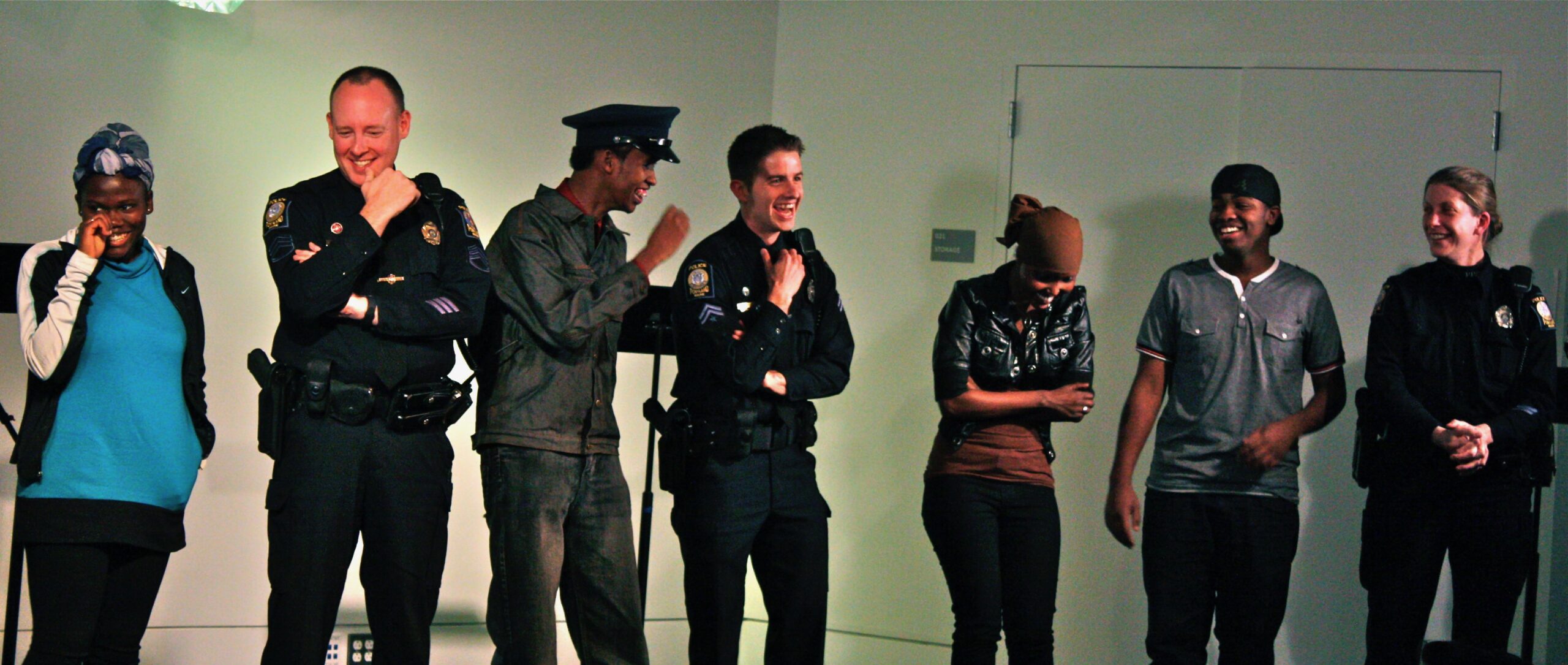 From The Weeping City:
Listen to me as I speak!
We will be following the same footsteps
and the same road
We will be tracing the same circle
over and over again

That is until we dare to make a change
In order to be one we must live as one
So unclench your fists
Move your hands from your ears
Open your eyes
It's ok to release your tears
Speak your mind
Share your fears
From Radio Calls:
Ray
It's true, none of us wanted to do this,
to speak in front of a lot of people.
We'd rather fight bad guys,
but we wanted to give you an opportunity
to see inside us,
inside a police officer.
Mary
To see who we are and that no matter where you come from, change is possible.
Chuck
We are not the same.
And you can be whoever you want to be.
And it does get better.
Two original performances by police officers and African-born high school students to address youth attacks on police and city workers after the killing of a Sudanese man in an armed confrontation with police officers.
Forest City Times was created in response to intensifying tensions between the city staff and (primarily) immigrant/refugee youth following the death of a Sudanese man during a confrontation with Portland police officers. The police and parks department personnel were increasingly targeted with the labels "Murderers," "Assassins," "Killers," and – on two occasions – rocks and bottles. This openly hostile stance toward police became an increasingly common attitude among residents under 30 years of age. The performance – featuring two original plays – was performed for over one thousand Portland high school students and faculty (representing half of all high school students in Portland).
Forest City Times opened with The Weeping City, a production by nonprofit Maine Inside Out exploring the relationship between young immigrants & the police. It was performed by 9 students, all born in Africa, who helped to write and stage the play.
Inspired by a performance of The Weeping City and Art At Work's poetry and photography projects with the police, Portland Police Chief James Craig asked Art At Work Director Marty Pottenger to write and direct a performance that communicated the police officers' perspectives for local high schools. Radio Calls, developed from interviews, ride-alongs, and workshops with over 25 police officers, is the result. Radio Calls featured five Portland police officers sharing stories about their lives, work and interactions with Portland's youth.
Forest City Times concluded with facilitated dialogues with officers, students and audience members that examined where we are, where we want to be and how we might get there. At the end of every performance, high school students flocked to meet the police officers in person, to ask more questions and to share their perspectives on the issues. Patrol officers have reported countless instances of positive engagements with youth in direct response to the performances.